Cookie policy
Cookie policy
Information about our use of cookies
Our website uses cookies to distinguish you from other users of our website. This helps us to provide you with a good experience when you browse our website and also allows us to improve our site. By continuing to browse the site, you are agreeing to our use of cookies.
A cookie is a small file of letters and numbers that we store on your browser or the hard drive of your computer if you agree. Cookies contain information that is transferred to your computer's hard drive.
We use the following cookies:
Strictly necessary cookies.

These are cookies that are required for the operation of our website. They include, for example, cookies that enable you to log into secure areas of our website, use a shopping cart or make use of e-billing services.

Analytical/performance cookies.

They allow us to recognise and count the number of visitors and to see how visitors move around our website when they are using it. This helps us to improve the way our website works, for example, by ensuring that users are finding what they are looking for easily.

Functionality cookies.

These are used to recognise you when you return to our website. This enables us to personalise our content for you, greet you by name and remember your preferences (for example, your choice of language or region).

Targeting cookies.

These cookies record your visit to our website, the pages you have visited and the links you have followed. We will use this information to make our website and the advertising displayed on it more relevant to your interests. We may also share this information with third parties for this purpose.
You block cookies by activating the setting on your browser that allows you to refuse the setting of all or some cookies. However, if you use your browser settings to block all cookies (including essential cookies) you may not be able to access all or parts of our site. Please note that third parties (including, for example, advertising networks and providers of external services like web traffic analysis services) may also use cookies, over which we have no control. These cookies are likely to be analytical/performance cookies or targeting cookies.
Except for essential cookies, all cookies will expire between 30 minutes and two years from the date they are downloaded to your device.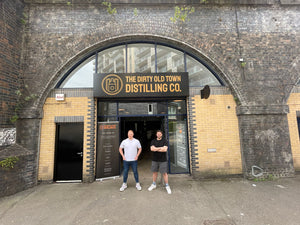 SPICED RUM EXPERIENCE
SPICED Rum Experience
Nestled under the Salford railway lines, just a stones throw from Manchester city centre is The Dirty Old Town Distillery, home to Salford Rum and the Spiced Rum Experience.
We hope Salford Rum fans, seasoned rum aficionados, or cocktail lovers, will enjoy this up close and personal opportunity to sample our rums first hand, in the distillery where they're made and learn about the history of spiced rum and our journey so far.
What's included?
Our Spiced Rum Experience lasts around 60 mins and includes:
• Guided tasting of 4 of our rums
• Two expertly mixed rum cocktails

• Insight into the history of rum
and spices through Salford Docks
• The story of how a drunken idea
turned in to Salford Rum
• Q&A Session
•10% discount off purchases in our rum shop
After your experience, the shop and bar will be open for you to enjoy a few more tipples if you wish, and there is a great selection of pubs nearby, including The Blackfriar, The Eagle Inn, The Kings Arms and many more, or wander into MCR city centre just a 10 minute walk away.
Over 18s only.
To book a private experience or corportate event, please email distillery@salfordrum.com
CANCELLATION POLICY
Our Rum Experience and vouchers are non-refundable. In the unfortunate event that you cannot attend your booking we will happily transfer you to an alternative date. However, we require a minimum of 7 days notice. Unfortunately, we cannot transfer bookings with less than 7 days notice before the event.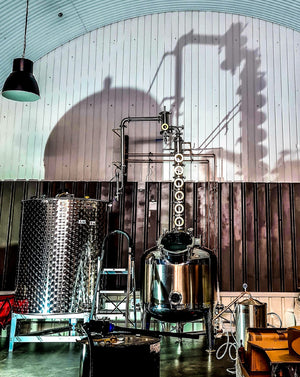 Willow
Willow is our 380L column still. The name Willow was chosen by Salford resident Paul Sly and is a reference to the willow trees that grow alongside the banks of the River Irwell that flows through our great city. Salford itself is named after the very same Willow trees, originally derived from the Anglo-Saxon Sealhford "sallow-tree ford".
The Willows was also the name of the stadium that was the home of Salford Rugby League from 1901 - 2011.