About us
The Salford Rum Company is a celebration of the history, heritage and people of Salford Docks throughout the late 1800's and early 1900's.  
During this era, Salford Docks grew to be the third largest port in the UK, and amongst the industrial imports of the time, were rums, fruits and spices from the Caribbean.
The Salford Rum Company spiced rum is inspired by these imports and delivers a blend of warm spices, nutmeg, cinnamon and ginger, combined with sweet vanilla notes, a hint of maple and topped with orange and steeped fruits.
Our rum is copper column distilled in small batches before it is infused with fruits and spices, filtered and hand-bottled, into a ceramic bottle featuring a doodled map of the dockyard, designed by local artist Dave Draws. All this happens just a stones-throw away from the old Salford Docks.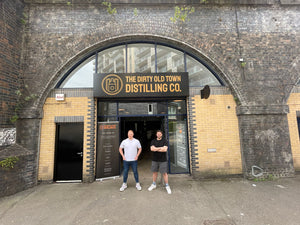 SPICED RUM EXPERIENCE
SPICED Rum Experience
Nestled under the Salford railway lines, just a stones throw from Manchester city centre is The Dirty Old Town Distillery, home to Salford Rum and the Spiced Rum Experience.
We hope Salford Rum fans, seasoned rum aficionados, or cocktail lovers, will enjoy this up close and personal opportunity to sample our rums first hand, in the distillery where they're made and learn about the history of spiced rum and our journey so far.
What's included?
Our Spiced Rum Experience, run by close friend of the brand and award-winning mixologist Jamie Stephenson, lasts around 90 mins and includes:
• Guided tasting of all our rums
• Three expertly mixed rum cocktails

• Insight into the history of rum
and spices through Salford Docks
• The story of how a drunken idea
turned in to Salford Rum
• Q&A Session
•10% discount off purchases in our rum shop
After your experience, the shop and bar will be open for you to enjoy a few more tipples if you wish, and there is a great selection of pubs nearby, including The Blackfriar, The Eagle Inn, The Kings Arms and many more, or wander into MCR city centre just a 10 minute walk away.
Over 18s only.
To book a private experience or corportate event, please email distillery@salfordrum.com. Hen & Stag Dos can be accommodated.
CANCELLATION POLICY
Our Rum Experience and vouchers are non-refundable. In the unfortunate event that you cannot attend your booking we will happily transfer you to an alternative date. However, we require a minimum of 7 days notice. Unfortunately, we cannot transfer bookings with less than 7 days notice before the event.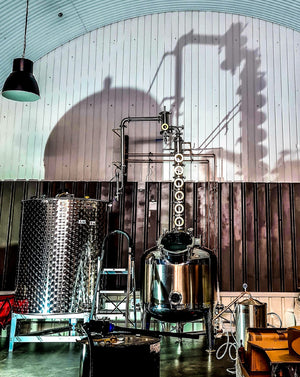 Willow
Willow is our 380L column still. The name Willow was chosen by Salford resident Paul Sly and is a reference to the willow trees that grow alongside the banks of the River Irwell that flows through our great city. Salford itself is named after the very same Willow trees, originally derived from the Anglo-Saxon Sealhford "sallow-tree ford".
The Willows was also the name of the stadium that was the home of Salford Rugby League from 1901 - 2011.