Dave Draws Doodle & Rum Evening - 6:30PM Thursday 16th November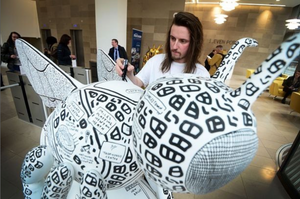 @dave__draws
Dave Draws Doodle & Rum Evening
Join us at The Dirty Old Town Distillery on Thursday 16th November for this special doodle evening with Salford Rum bottle artist Dave Draws
Arch 33 Viaduct Street, Salford, M3 7WX
What's included?
This 2.5 hour work shop includes:
Step by step instructions on how to create your own doodle map, led by our bottle artist and renowned Manchester doodler Dave Draws.
You'll doodle the area of your choice.
The story of how Dave became a full time doodle artist.
Our story how Dave came to produce the artwork for our unique bottle design.
Two signature Salford Rum cocktails served while you doodle
All drawing materials are provided and you'll take away your very own doodle print and pens at the end of the evening.
Over 18s only.